(V) – Vegetarian (GF) – Gluten Free Friendly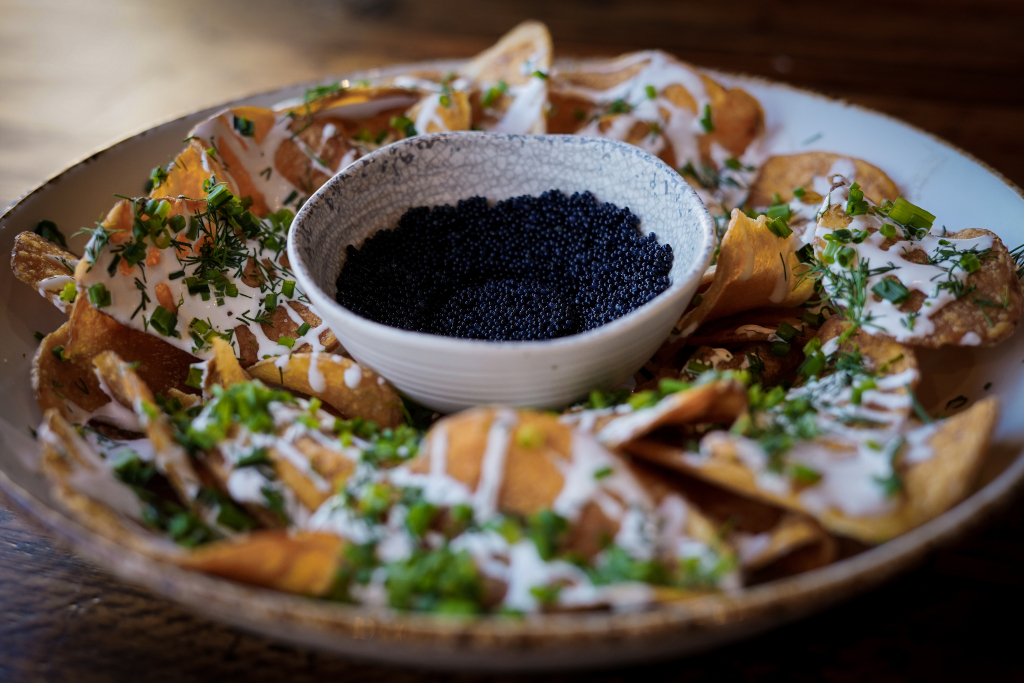 Salads & Snacks
K&R Chopped Salad
Mixed salad blended with green onion, bacon, tomato, dried cherries, caramelized pecan pieces and dressed with blue cheese vinaigrette.
Add chicken $5.
$6 small, $12 large
---
Caesar Salad (V)
Romaine, shaved parmesan, fresh cracked pepper, served with bread and lemon wedge. Anchovies on request. Add chicken $5.
$6 small, $12 large
---
Baby Arugula Salad (V)
Baby arugula topped with manchego cheese and glistened with Lemon vinaigrette. Add chicken $5.
$5 small, $10 large
---
Caviar Chips
Caviar, east coast kettle chips, crème fraiche,
and fresh dill.
$12
---
Salsa Di Parma (V)
Parmesan, asiago and aged romano blended with secret spices from Italy, crushed pepper, scallions, fresh oregano and olive oil. Served with lavosh cracker.
$8
---
French Fries (V)
Whole cut fries, skin on and slightly seasoned. Bearnaise dipping sauce.
$8
---
Jumbo Red Argentina Shrimp Cocktail (GF)
5 jumbo tail-on shrimp served with craft cocktail sauce.
$11
---
K&R Cheese Board
A variety of local and imported cheeses, handmade jams, spicy pistachios, and lavosh cracker.
$16
Fish
Chilean Sea Bass (GF)
Choice of wild caught fish prepared as: miso glazed, pistachio crusted, or simply grilled. Served with jasmine rice or creamed mashed cauliflower.
4oz Filet- $26
8oz Filet – $48
---
Norwegian Salmon – 5oz Filet. (GF)
Choice of wild caught fish prepared as: miso glazed, pistachio crusted, or simply grilled. Served with jasmine rice or creamed mashed cauliflower.
$18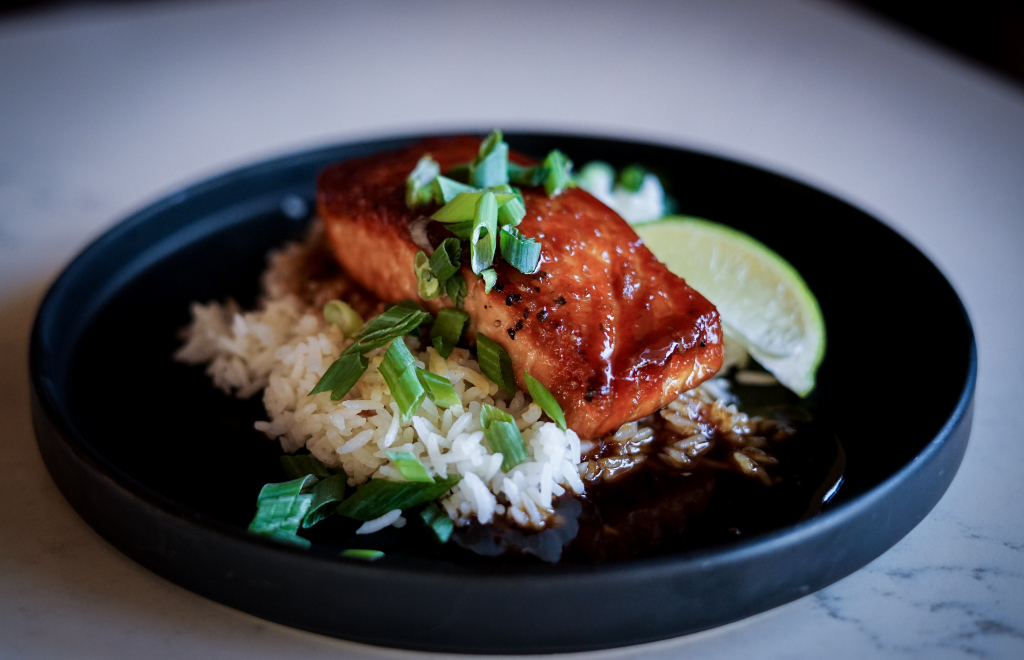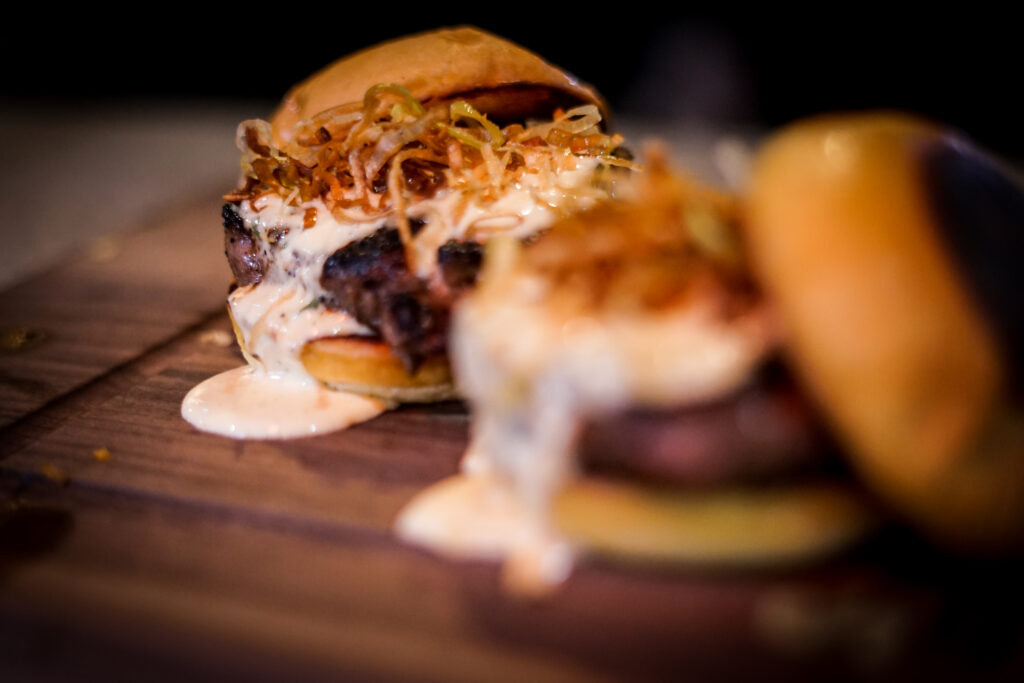 Beef
K&R Cheeseburger Sliders
Two famous buttery sliders, secret seasoning, topped with government cheese, on brioche bun. Served with old fashion hamburger dills on the side.
$12
---
The Famous Filet Mignon Sandwich
Two 3oz USDA Choice 21 day aged tenderloins, cooked to your liking, served with frazzled onions, bearnaise sauce on brioche buns.
$29
---
Espresso Rubbed Petite Filet (GF)
A 6oz center cut 21 day aged filet, hand cut by the big guy! Cooked to your liking, topped with frazzled onions. Served with fire grilled bread and butter.
$39
House Specials
Nana's Meatballs
This recipe is from late 1800's and handed down for generations. Two balls served with parmesan cheese and grilled bread. 6 hours of love in Nana's sauce, quantities limited, get them while you can.

*In old world tradition, pork riblets are used for our amazing flavor. Though we try to get all the bones out, you might find that riblet in your sauce.
$11
---
Lamb Lollies (GF)
Three roasted and seasoned frenched NZ lamb lollies, seasoned with rosemary, simple seasoning and served with a fresh mint chimichurri and creamed mashed cauliflower
$21
---
Crispy Duck (GF)
Baked, sautéed and crisped duck breast with a tart
cherry-soy caramelization. Served with jasmine rice and naan bread.
$21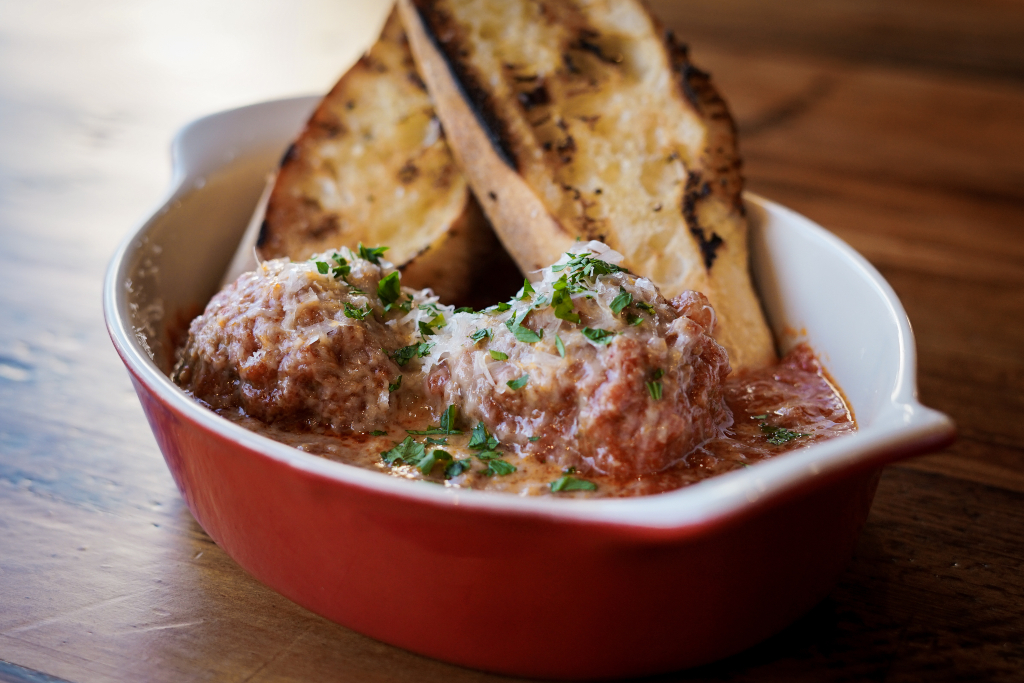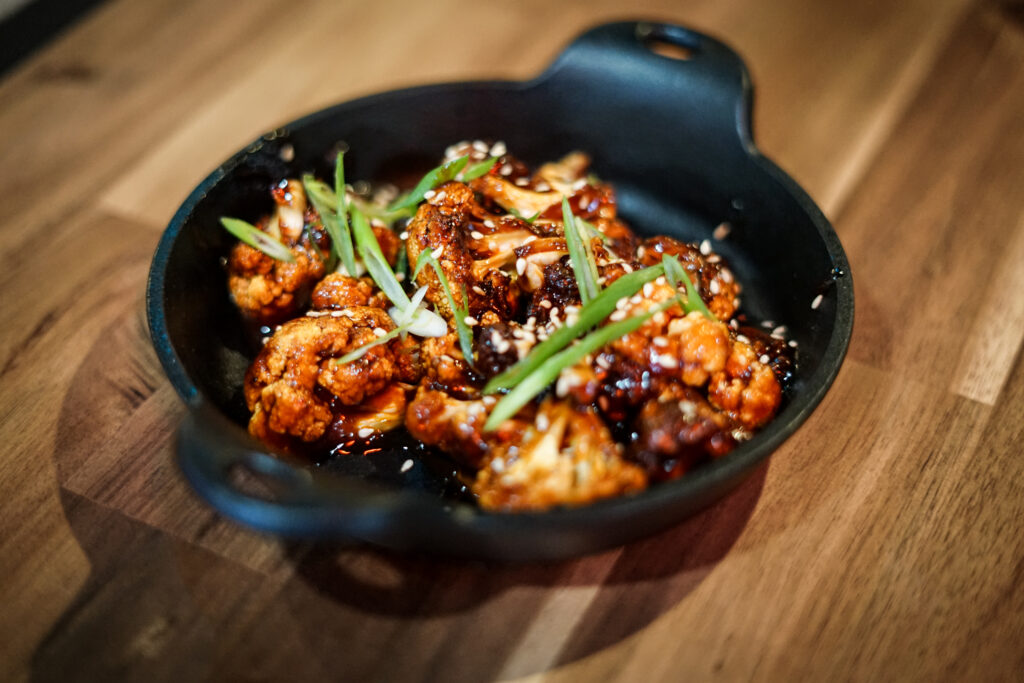 Vegetables & Pasta
Cauliflower Burnt Ends (GF) (V)
A creation of blending heritage burnt ends of BBQ fame with Cauliflower. The flavor is craveable.
$9
---
Roasted Root Vegetables (GF) (V)
A medley of root vegetables with house blended seasonings.
$10
---
Vin Rose Pasta
Nana's traditional red sauce, blended with wine, garlic cream parmesan sauce. Served over Cellentani Pasta and grilled bread.
Add a meatball or chicken $5
* (V) No Red Sauce
$12
Pork
Vietnamese Pork Belly
Slow smoked tender pork belly glazed with brown sugar, assorted chili's, coconut water, soy and sacred spices. Served with jasmine rice.
$19
---
Pork Shanks
A unique craft cut, crispy, seasoned and served with fresh sofrito.
$15
---
Drop Pork Sliders
Tender, slow pit smoked, barked, seasoned pork. Served with fresh made pickled relish and bbq sauce on brioche bun.
$11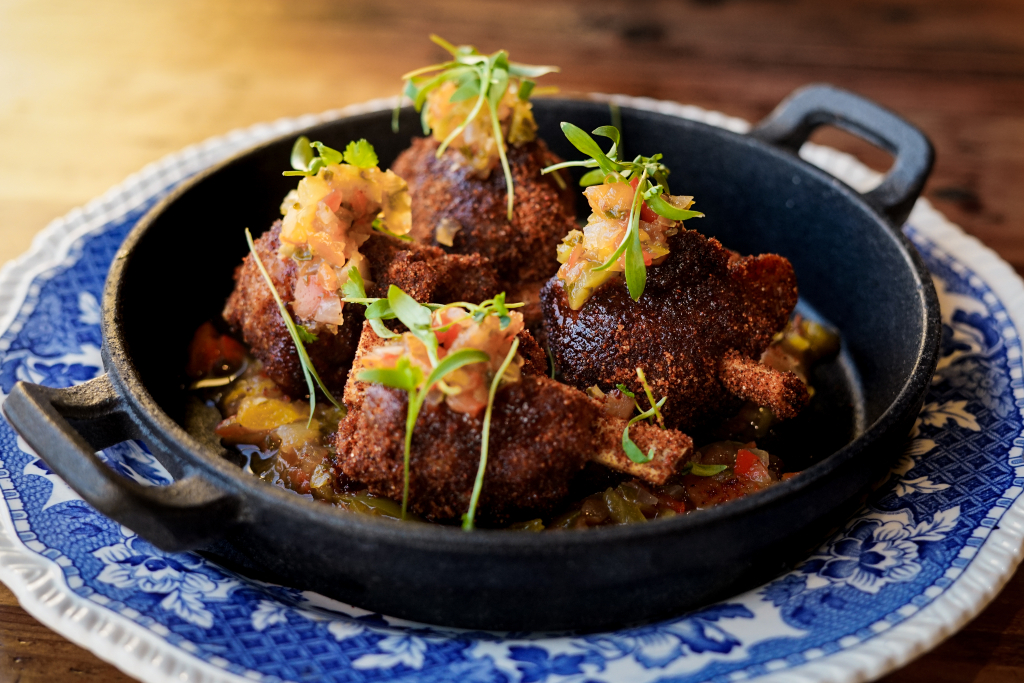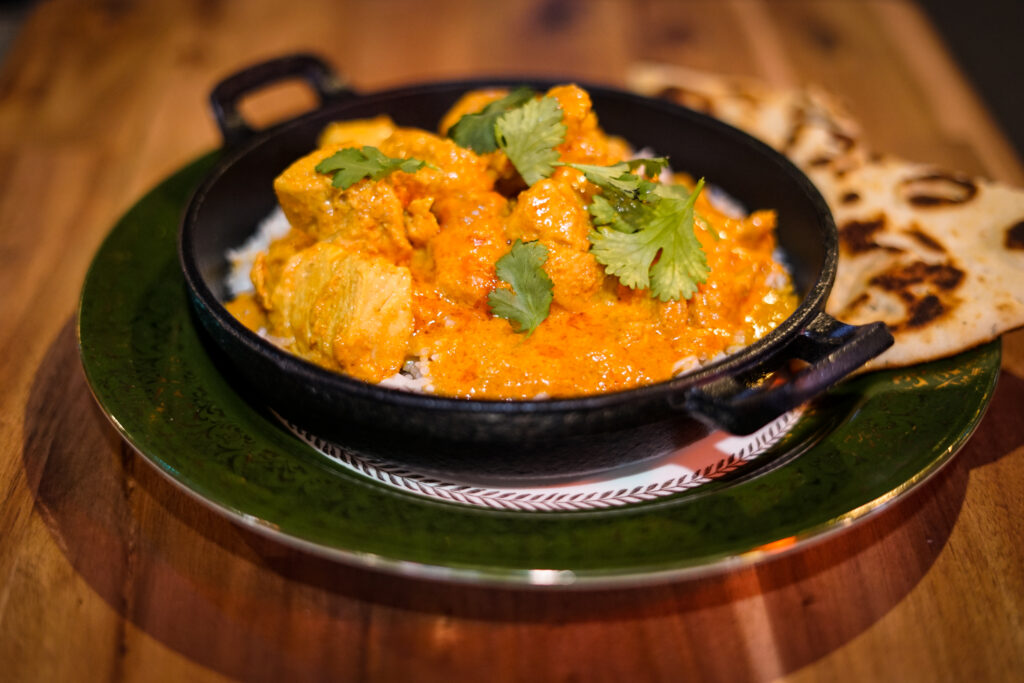 Chicken
Butter Chicken (GF)
A slow-cooked, spice-infused yogurt marinade, with fresh ginger, garlic, lemon, complex spices, chicken thighs and breast, served with Jasmine rice and naan.
$15
---
The Whole Damn Wings (GF)
The drummies, paddles and points, lightly smoked in cherry wood with seasoned rub. Tossed with choice of dry rubbed, buffalo, or lemon garlic parmesan, and served with ranch or blue cheese dressing.
$14
Desserts
Better Than Sex Cake (V)
[If the kids are around, it's Joe's Birthday Cake]
It's famous!
$9
---
Italian Donuts (V)
Fried donuts rolled in cinnamon sugar, italian espresso frosting and fresh whip cream with shaved chocolate.
$10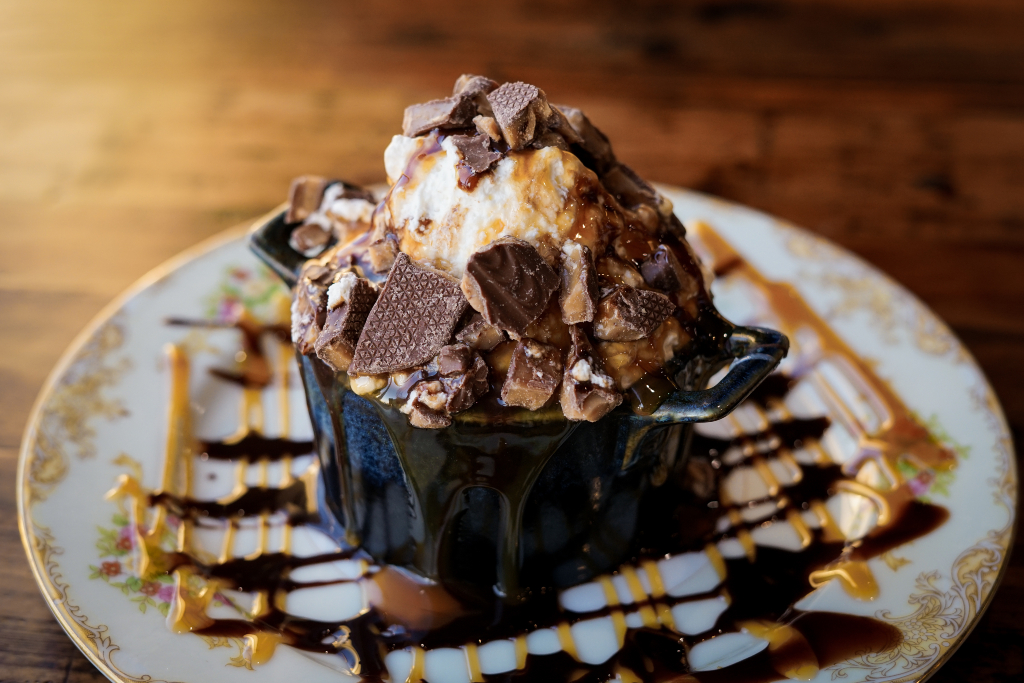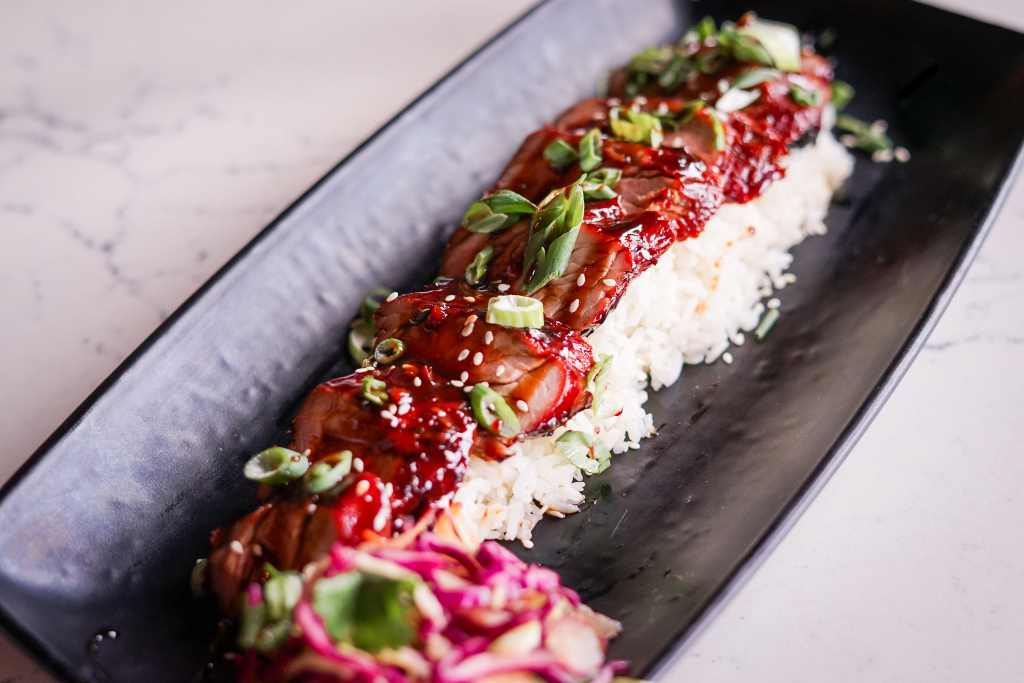 Spring Seasonal
Fig & Prosciutto Bruschetta
Whipped black truffle ricotta layered with davina fig, pistachios and prosciutto on our fire toast.
$12
---
Golden Beet Salad
Golden beets, honey chèvre arugula, and pistachios with lemon chardonnay vinaigrette.
half $8 / full $16
---
Insalata Fave' di Mozzarella
Edamame, fave' beans, fennel, fresh buffalo mozzarella pearls, fresh lemon, heirloom cherry tomatoes.
$12
---
Curry Thai Peanut Noodles
Udon noodles, thai peanut sauce, cilantro, red peppers, sesame seeds, with curry marinated chicken skewers.
$13
---
The Scarlet Sow
Pork tenderloin grilled to perfection with the famous char siu red marinade, served with jasmine rice and scallions.
$25
---
What the Cluck Sliders
Habanero, buttermilk, and hot sauce marinated chicken breast sliders on a toasted brioche, with asian ponzu slaw. Tender and suburban spicy.
$12
---
Aramena Quatro Leches Cake
Housemade tres leches plus una más leche. Topped with hand-whipped aramena cherry whipping cream.
$12