Victorio's Wines
The Story
Named after the original restaurant that started it all, Victorio's wines represent the best wines, the hidden gems, that we've sourced and imported back to serve at Kitchen and Rail. They were carefully selected to pair with this food menu to give you a full, immersive, and sensory experience.

It only feels like an indulgence.
Cask Wines
Meritage – Clarksburg, CA
One year aged in French oak barrels. Bold and full bodied wine. Fruit and oak on the nose, smooth on the palate and finish.

Pairing: Filet Mignon Sandwich
$9 Glass, $36 Carafe
---
Malbec – Mendoza, Argentina
Fruit and spice on the palate balanced by notes of fresh fruits like plums and blackberries. It is ripe in the mouth with soft, round tannins and a long finish.
Pairing: Vin Rose Pasta.
$9 Glass, $36 Carafe
---
Viognier – Clarksburg, CA
A fully dry, crisp wine made in southern european style that has minerality and a long, pleasant finish. It is full bodied, yet balanced.

Pairing: Frog Legs
$9 Glass, $36 Carafe
---
Riesling – Rhône, France
Highly aromatic, notes of an orchard and citrus fruit on the palate. Made with crisp acidity and complex structure.

Pairing: Norwegian Salmon
$9 Glass, $36 Carafe
---
Prosecco – Italy
Refreshing and bright; intensely aromatic and crisp on the palate, with aromas and flavors of yellow apple, white peach, pear, and notes of white flowers.

Pairing: Caviar Chips
$9 Glass, $36 Carafe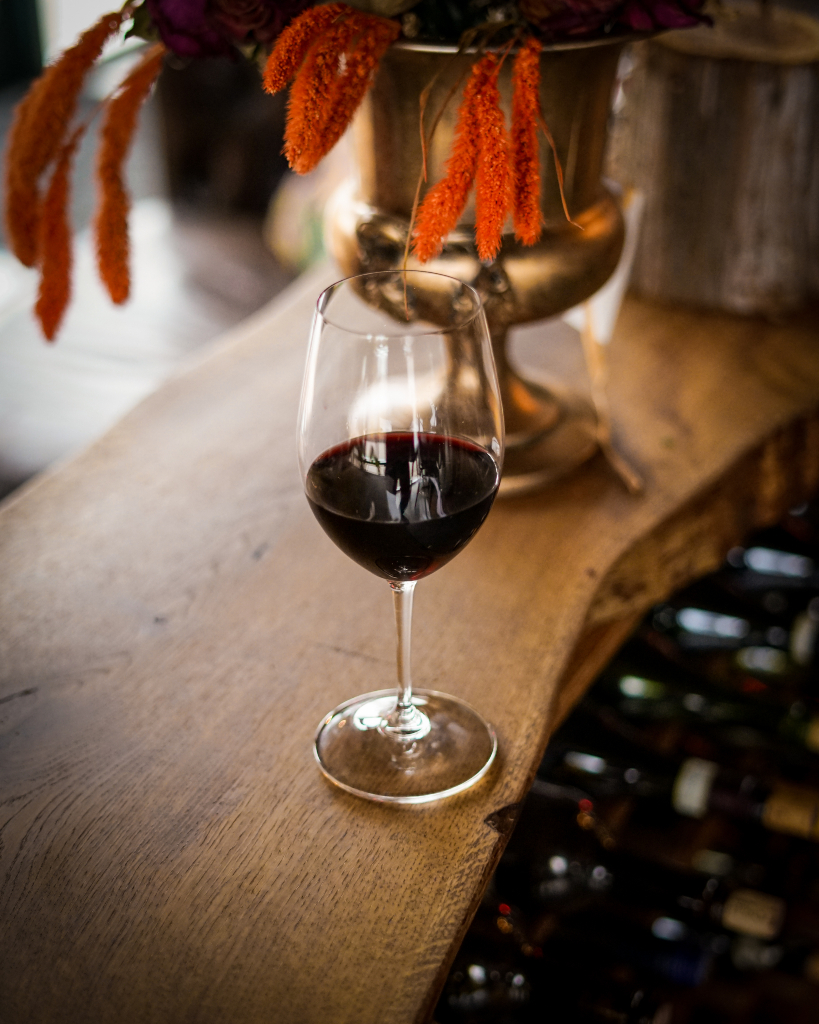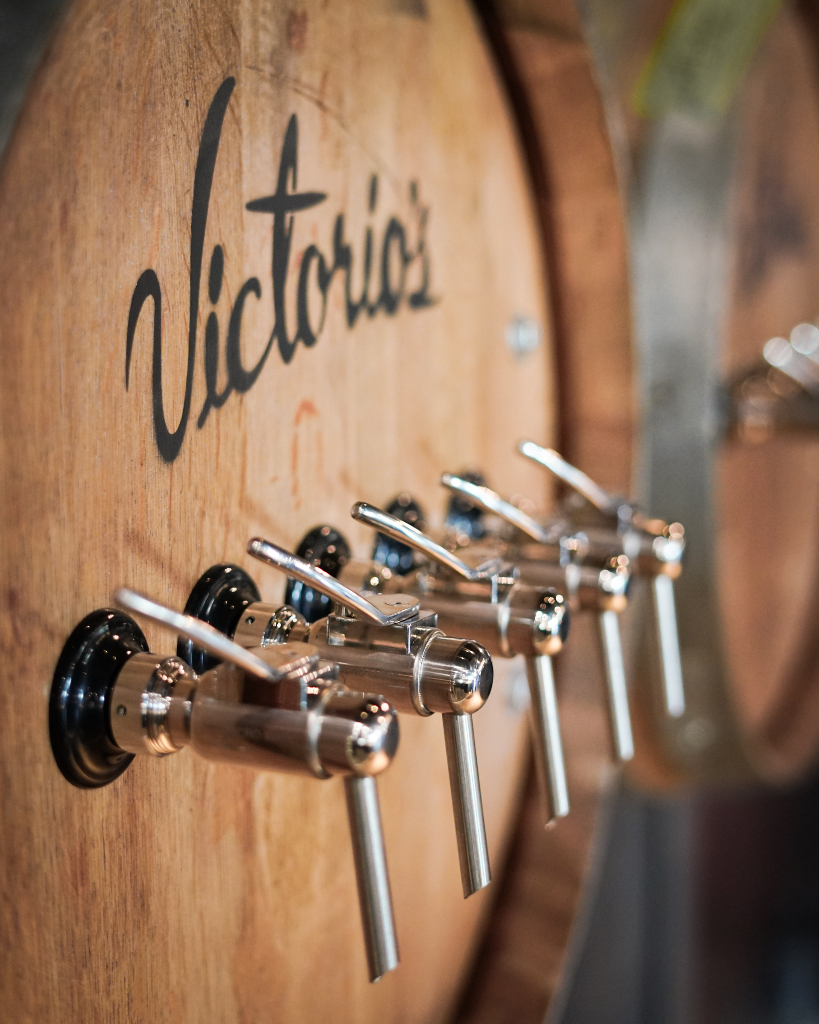 Reserve Wines
Chardonnay – Edna Valley AVA
Hand-picked and fermented 11 months in a combination of French oak barrels for richness and stainless steel to preserve fruit flavors. Balance of fruit and structure – perfectly comfortable as an aperitif, but superb at the table.

Notes: Juicy white nectarine notes on the palate, bursting with spice tones of star anise, ginger and orange zest.

Pairing: Butter Chicken
$12 Glass, $48 Carafe
---
Pinot Noir – Edna Valley AVA
Mid-weight, fruit driven and textured. Hand-harvested and barrel aging in French oak for 11 months. Varietally true, it shows how Pinot Noir is perhaps one of the most versatile wines to pair with food.

Notes: Generous, with ripe dark plum and berry flavors, orange peel and a rich, smooth palate feel.

Pairing: Crispy Duck
$12 Glass, $48 Carafe
---
Cabernet Sauvignon – Paso Robles AVA
Traditionally fermented, and French oak aged for 14 months, we blend 15% Merlot into our wine to balance the structure and bring a fruity mid-palate to the wine. Delicious and rich, but with enough balance to be wellsuited at the table.

Notes: Dense and dark, with ripe cherry, dried plum, and cocoa with French oak tones.

Pairing: Espresso Rubbed Petite Filet
$12 Glass, $48 Carafe
---
Sauvignon Blanc – Marlborough, NZ
Blend of grapes from two distinctly different Hawke's Bay vineyards – Mangatahi and Te Awanga – harvested early in the morning, gently pressed and fermented in stainless tanks.

Notes: The nose is full of ripe nectarines and peaches with a lovely honey undertone and a long, fine finish.

Pairing: Pork Shanks and Norwegian Salmon
$12 Glass, $48 Carafe
---
Petite Syrah – Clarksburg, CA
Dark, inky purple, plum (almost black) color. The wine is refined with a rich French Oak barrel profile. The finish is rich with dark chocolate, blackberry and creamy Tahitian vanilla.

Notes: Intense aromas express blueberry and huckleberry fruit.

Pairing: Cheese Board
$12 Glass, $48 Carafe
---
Rosé – Rhône, France
Fresh, fruity and petal-rose colored. It is made from a blend of grenache, syrah, and cinsault grapes. Perfect balance between the body and the freshness.

Pairing: Norwegian Salmon
$12 Glass, $48 Carafe
The Cellar
Rombauer Chardonnay
Creamy, rich palate, with aromas of vanilla, peach and mango are layered with apricots, creme brûlée, butter and slight minerality.
$9 3oz | $16 5oz | $25 7oz
---
Grgich Hills Chardonnay
From Napa Valley, aromas of fresh peach, citrus, and
honeysuckle. With passion fruit, white peach, and vanilla finish.
$8 3oz | $14 5oz | $23 7oz
---
Duckhorn Chardonnay
A silky mouthfeel and energetic acidity frame orchard-fruit
flavors of pear and white peach, with a long, focused finish.
$9 3oz | $15 5oz | $21 7oz
---
Cloudy Bay Sauvignon Blanc
A benchmark from New Zealand, shows an abundance of passion
fruit, lime, grapefruit with just the right amount of grassiness.
$8 3oz | $15 5oz | $23 7oz
---
Siduri Pinot Noir
Aromas of vibrant red and black fruits, rose petal, and allspice.
Flavors of mulberry, plum, fig jam, cocoa nib, graphite.
$9 3oz | $15 5oz | $21 7oz
---
Fowler Silverado Cabernet Sauvignon
GOLD Medal Winner, 2020 SF Chronicle Wine Competition. Bold, complex and fruity with smooth tannins, and a long pleasant lingering finish.
$8 3oz | $15 5oz | $24 7oz
---
Caymus Cabernet Sauvignon
Napa Valley Cabernet, featuring layered, lush aromas and flavors, including cocoa, cassis and ripe berries.
$9 3oz | $20 5oz | $30 7oz
---
Opus One Napa Valley Red Wine 2018
It's full-bodied, yet ever so balanced and refined. Aromas
of blackberry, cassis and black cherry. Layered flavors juicy
black-fruit, hints of orange zest, licorice and dark chocolate.
$54 3oz | $90 50z | $126 7oz